This 5-minute homemade peanut butter is easy, creamy, and requires just ONE ingredient! Enjoy it on oatmeal, toast, smoothie bowls, or any recipe that calls for peanut butter. Once you learn how easy it is, you'll never want to use store bought nut butter again!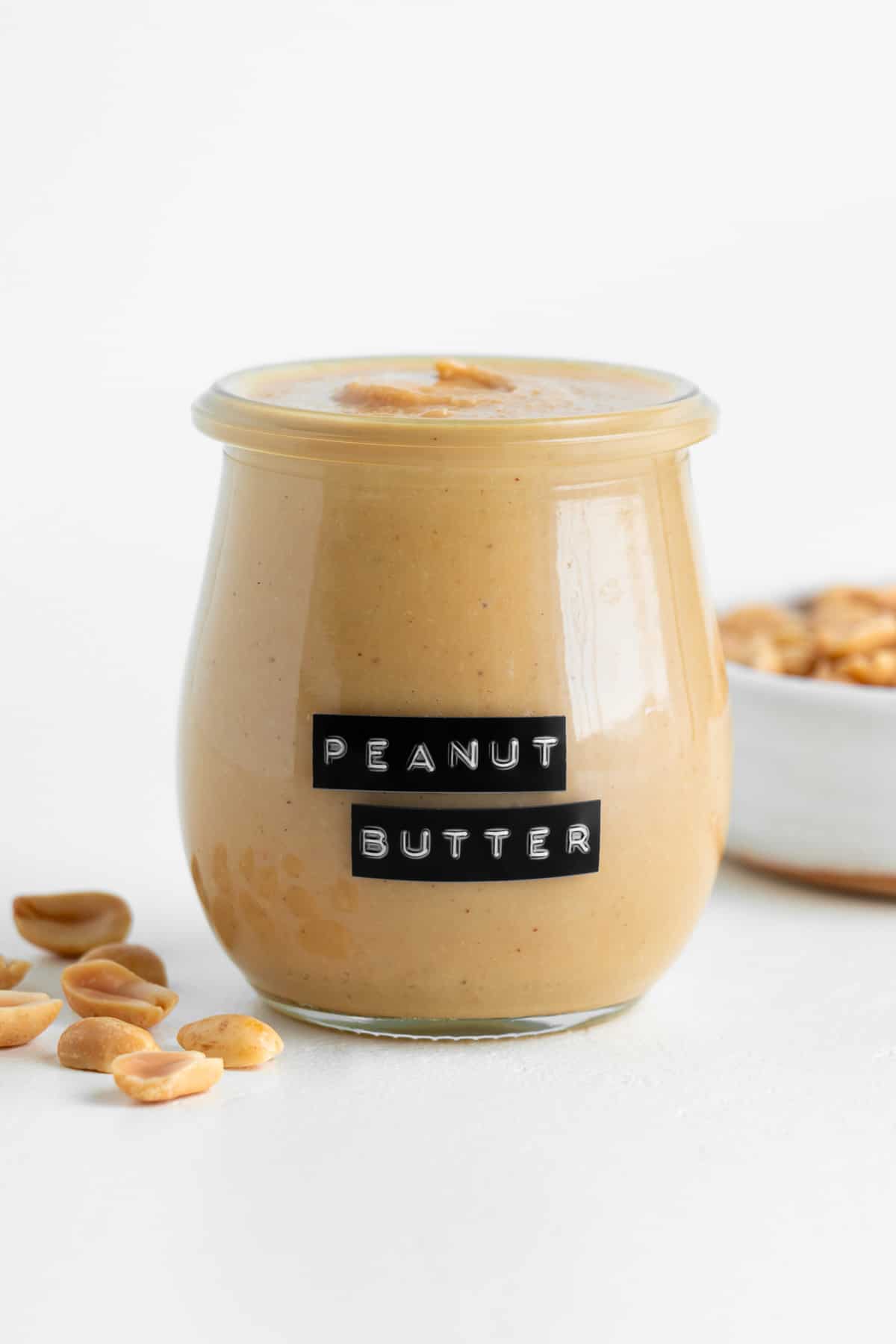 Who else LOVES peanut butter?! If you couldn't already tell, nut butter is often included in my recipes. Peanut butter, in particular, is my favorite. The rich, peanutty flavor + smooth and creamy consistency brings so many breakfasts, desserts, and baked goods to new heights.
Once you try this homemade peanut butter, you won't be reaching for the store-bought varieties again. It's just so quick, easy, and delicious… why not make it at home? Plus, you'll practically feel like a wizard while you watch the roasted peanuts turn into melty, drippy, liquid gold. (I always make homemade nut butter, but I still stare in amazement every time!)
What else is great about this recipe? You can make it exactly how you like it. You only need one ingredient – and that's peanuts, of course. I recommend using the roasted and unsalted variety. This allows you to add whatever level of saltiness you enjoy. If you want to use raw peanuts, do your thang. Personally, I think roasted peanuts provide a richer, deeper, and overall better flavor.
This homemade peanut butter is:
Smooth, creamy, and perfectly peanutty
Requires only ONE ingredient
Prepared in just 5 minutes
Easily adaptable with optional add-ins
Lasts for several weeks!
HOW TO MAKE PEANUT BUTTER
Scroll down to view the recipe card for the full ingredient list and step-by-step instructions.
Time for the magic to happen! First, add your peanuts to a high-powered blender or food processor. Pulse the peanuts for about 1 minute. They will turn it a crumbled, dry, and gritty flour.
Scrape down the sides of the container with a spoon or rubber spatula. Then, pulse the peanuts again for about 3-4 minutes. They will form into a thick dough and, eventually, into a smooth nut butter. Be patient and continue processing until this is achieved. I promise, your peanuts will turn into a drippy and buttery consistency.
BEST TYPE OF PEANUTS FOR HOMEMADE PEANUT BUTTER
There are various varieties of peanuts: raw, roasted unsalted, roasted salted, sweet and salty, etc. Well, which one creates the best peanut butter? Dry roasted peanuts create the best homemade peanut butter.
Specifically, I recommend using roasted unsalted peanuts. This way, you're able to add your own salt and achieve the exact level of saltiness you desire. Alternatively, you can enjoy a totally salt-free recipe. I love adding pink Himalayan salt to mine!
OPTIONAL ADD-INS
Feel free to get creative and experiment with your homemade nut butter. Once the nuts have processed into a smooth consistency, you can toss in some salt, sweetener, and other add-ins.
Optional add-ins for homemade peanut butter:
Ground cinnamon
Coconut sugar
Maple syrup
Ground flaxseed, hemp seeds, or chia seeds
Cocoa power or cacao powder
Chocolate chips or cacao nibs
Finely chopped peanuts (for crunchy nut butter)
Peanut oil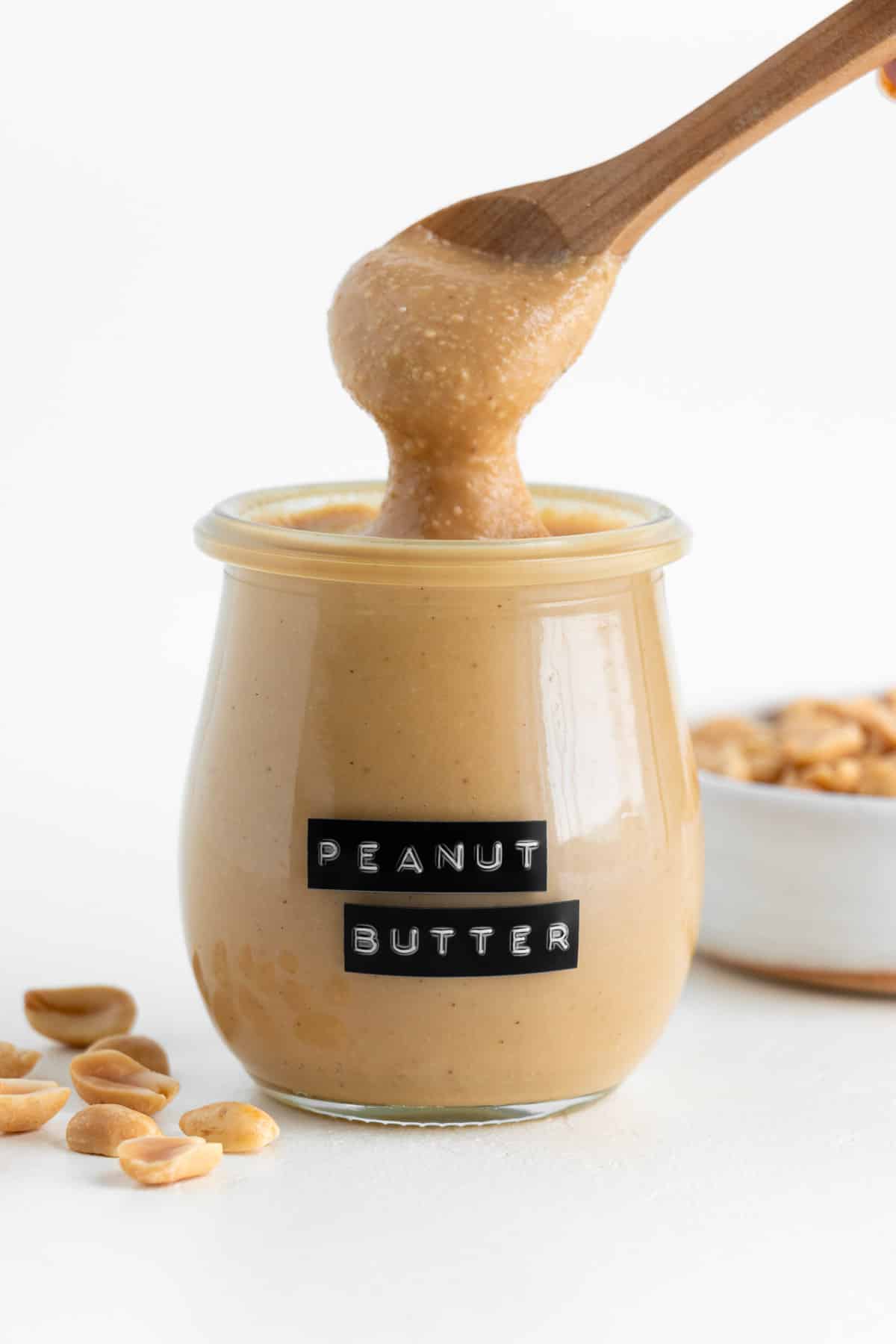 DOES HOMEMADE PEANUT BUTTER NEED TO BE REFRIGERATED?
If you plan to use up all of the nut butter within a couple days, you can store it at room temperature. However, if it will last you a week or longer, store it in the refrigerator. Why? Natural oils within the peanuts will become rancid and spoiled if left at room temperature for weeks on end.
HOW LONG DOES HOMEMADE PEANUT BUTTER LAST?
Errrr, as long as your willpower allows? Kidding! Kind of. 😉
Homemade peanut butter will keep fresh for several weeks in the refrigerator. Make sure you store it in an airtight mason jar, weck jar, or lidded container.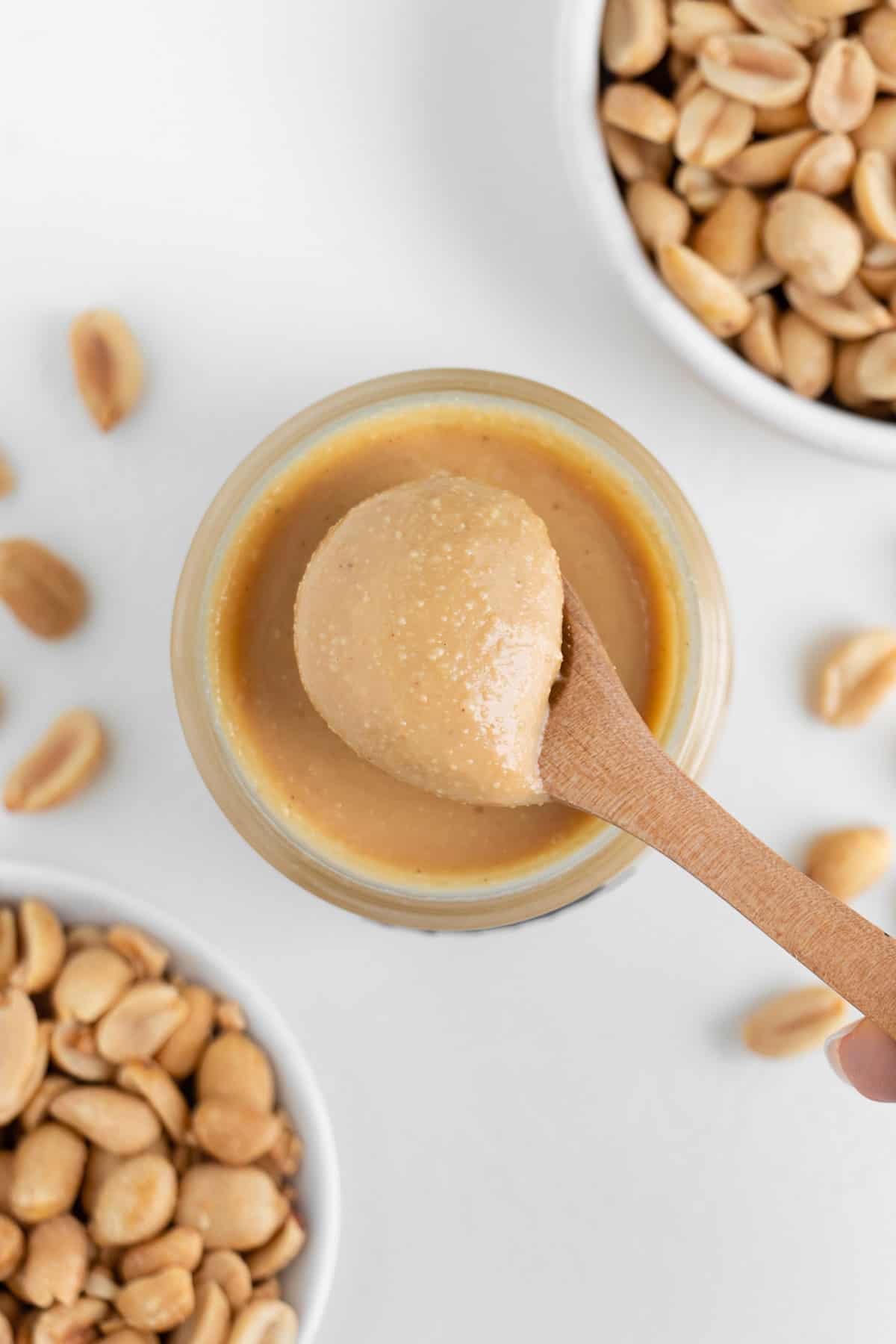 HOMEMADE PEANUT BUTTER
 Prep Time: 5 minutes
 Total Time: 5 minutes
 Yield: 1 cup 1x
 Category: Dip, Dressing, and Spreads
 Method: Blend
 Cuisine: American
Diet: Vegan
---
DESCRIPTION
This 5-minute homemade peanut butter is so EASY! Prepare this creamy nut butter with just ONE ingredient and a blender or food processor. Enjoy it on oatmeal, toast, smoothie bowls, and more.
---
INGREDIENTS
PEANUT BUTTER
OPTIONAL ADD-INS
1–2 tbsp sweetener (sugar, coconut sugar, maple syrup)
1–2 tbsp cocoa powder
1–2 tbsp seeds (hemp, chia, ground flaxseed)
1/2 tsp ground cinnamon
Peanut oil (if needed when using other add-ins)
---
INSTRUCTIONS
Add peanuts and salt to a food processor or high-powered blender (like a Vitamix).
Pulse the peanuts for 1 minute. They will form into a dry, crumbly, and gritty flour. Scrape down the sides of the container with a spoon or rubber spatula. Process the peanuts again for 2-3 minutes. It will start to form into a thick paste. Continue pulsing/blending for 1-2 minutes. Eventually, the peanuts will form into a smooth and creamy butter. If you are including add-ins, add them now and blend together until smooth.
Transfer peanut butter to a lidded jar or container.
---
NOTES
Omit the salt if you're already using salted peanuts.
Store peanut butter in the refrigerator. It will keep for several weeks.
---
NUTRITION
Serving Size: 2 tbsp
Calories: 160
Sugar: 1g
Fat: 14g
Saturated Fat: 2g
Carbohydrates: 5g
Fiber: 2g
Protein: 7g